Thank you to our Conference Sponsors …
GOLD SPONSORS
                                                                                                                                                           www.bostonscientific.com
Boston Scientific is dedicated to transforming lives through innovative medical solutions that improve the health of patients around the world. Founded in 1979 and headquartered in Massachusetts, USA, Boston Scientific employs 27,000 employees worldwide and is a global leader in the development of less-invasive medical devices that impact 25 million patients every year.
As a global leader in medical technology, services and solutions, Medtronic improves the health and lives of millions of people each year. We believe our deep clinical, therapeutic and economic expertise can help address the complex challenges — such as rising costs, aging populations and the burden of chronic disease — faced by families and healthcare systems today. But no one can do it alone. That's why we're committed to partnering in new ways and developing powerful solutions that deliver better patient outcomes.
Founded in 1949 as a medical repair company, we're now among the world's largest medical technology, services and solutions companies, employing more than 85,000 people worldwide, serving physicians, hospitals and patients in more than 155 countries. Join us in our commitment to take healthcare Further, Together. Learn more at Medtronic.com.
The National Standards Authority of Ireland is an industry leading Notified Body providing Global Medical Device approval and certification services. As Ireland's only Notified Body, we embrace the responsibility of delivering a true customer focused service that provides our clients with a competitive edge and promotes Ireland's position in the Global Medical Device Marketplace.
SILVER SPONSORS
www.acornregulatory.com
Acorn Regulatory is a leading life science consultancy firm with a global client base. Established in 2002, the company works with some of the world's largest medical device manufacturers and innovative SME's. Our expert team of regulatory consultants have extensive experience in industry, consultancy and with national health authorities.
They work on a wide range of assignments for our client companies. These range from preparing companies for the new Medical Device Regulations to longer term ongoing assignments. They also perform audit preparation exercises and provide services such as European Union Authorised Representative and PRRC (Person Responsible for Regulatory Compliance).
Acorn Regulatory can assist your company with any medical device issues that you might have. We can be contacted on: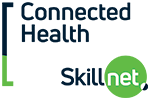 The Connected Health Skillnet is an enterprise-led, learning and development network established in 2017 specifically to address the current and future skills needs arising from the convergence of the medtech, pharma, ICT and software sectors in the dynamic field of digital health,
Together with our Contracting Organisation, Irish Medtech Association, our focus is to enhance the capability of Ireland and Irish-based companies to become recognised global leaders in the development and commercialisation of Digital Health solutions. We support this through the delivery of niche training, upskilling and important cross- sectoral networking opportunities to help facilitate collaboration and innovation between sectors..
The network addresses both technical and non-technical skills needs of our members and can deliver training at a time and pace to suit business needs and shift patterns. Since its establishment in 2017, the Connected Health Skillnet as engaged with 114 companies from across the medtech, tech and pharma sectors to upskill 370 trainees in critical areas such as medical software regulations and quality assurance; software validation and testing skills and leadership development.
Working in partnership with Skillnets and our contracting organisation, the Irish Medtech Association (Ibec sector), the Irish Medtech Association Skillnet has over the past number of years grown substantially in direct response to the training needs of industry. Total expenditure (2008-2015) is over €4.2 million, with 40% contribution from member companies and the remaining 60% funded by the state. Targets of over 6,000 trainees and 30,000 training days have been achieved.
www.williamfry.com
Leading law firm William Fry has over 310 legal and tax professionals and over 460 staff. Our client-focused service combines technical excellence with commercial awareness and a practical, constructive approach to business issues. We advise leading domestic and international corporations, financial institutions and government organisations. We regularly act on complex, multi-jurisdictional transactions and commercial disputes. Strong client relationships and high quality advice are the hallmarks of our business.
We are ranked by international directories, clients and market commentators alike as being a leader in our main areas of work: Corporate & M&A, Banking & Finance, Litigation & Dispute Resolution, Asset Management & Investment Funds, Real Estate, Insurance, Competition & Regulation, Tax, Projects & Construction, Employment & Benefits and Technology.
Our head office is in Dublin and in May 2019 we opened an office in Cork, enabling us to further service our clients in the Cork and wider Munster region. We have offices in London, New York, Silicon Valley and San Francisco and a global law firm network to service our clients at home and abroad.  Our capability is enhanced by our alliance with Tughans, Northern Ireland's largest law firm, through which we provide an all island solution.
The Firm's priorities are focused on the need to achieve results for clients. Continued investment in people, technology and research maintain the Firm's ability to provide practical and prompt solutions, while devoting exacting attention to detail.